Because we know that language learning doesn't occur in one year or even in a few months, it's over time.—Becky Palacios, Ph.D.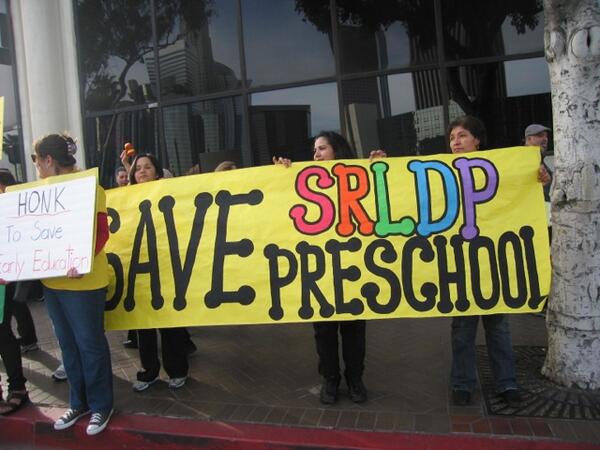 The School Readiness Language Development Program (SRLDP) is an amazingly effective Pre-K program for English Language Leaners. This isn't the first time that Broad and Gates' Superintendent John Deasy has tried to kill the program, it was on his neoliberal chopping block last year along with Adult Education and other vital programs.
This only serves to highlight a key problem with Governor Brown's just passed Local Control Funding Formula (LCFF). When your local controller is little more than an incarnate version of the "corporations are people" school of aberrant thought, you will see local control prioritizing profits over people. Deasy has already been diverting Title I and Title III dollars to projects that don't benefit students. LCFF gives Deasy more money, but without the constraints of categorical funding. Money for SRLDP Preschools, school libraries or Adult Education? Nope, sorry. Money for Rupert Murdoch's DIBELS® or Laurene Powell Jobs' iPads? Sure we've got that.
Save LAUSD's SRLDP Preschools for English Language Leaners by Robert D. Skeels

WHEN?  Tuesday, June 18th
WHERE?   The LAUSD Beaudry Building
   333 S. Beaudry Ave. L.A. 90017
   (In front of the Board Room)
TIME?    Get there as early as you can – before 9:00 a.m.  Plan to be there the entire day. 
WHY?  In protest of the proposed drastic SRLDP changes
WHO?  All SRLDP teachers, parents, and friends
 
Wear yellow, bring posters, signs, flags, hats, musical instruments and anything you can think of that is pro SRLDP.  Also bring water and a sandwich for yourself.  This will be a big push to save our program.  Let's stand together in unity.  This program is too valuable for the children and parents in our communities.  If you don't stand up for them, who will?  We must be proactive to be productive.  Be there on Tuesday!
All is not lost!  We are still in negotiations!
 
EVERY SRLDP TEACHER MUST BE THERE TO MAKE AN IMPACT.  BRING PARENTS & FRIENDS. 
SPREAD THE WORD!